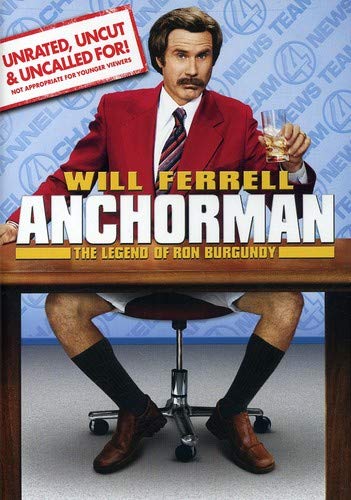 Celebrity Autographed DVD - Darcy Donavan Signed "Anchorman" DVD
Regular price $59.99 Sale
Celebrity Autographed DVD - Darcy Donavan Signed "Anchorman" DVD.
"Anchorman"
Comedy- Running Time: 93 Minutes
Set in San Diego during the 1970s, TV anchorman Ron Burgandy is the town's leading man as top player of the area's top rated news show. Loved by women and idolized by men, Ron has the fast track to a network anchor position all to himself, until the station brings in a female newscaster. Now that the gender barrier has been broken, Ron is torn between his growing feelings for the new girl and the professional rivalry the two share at work. With the competition breathing down his back, Ron must make all the right moves to secure the gig and keep the girl.
Featuring: Darcy Donavan
Here is what the charities are saying about our donations:
    Lancaster Opera House -  I'd like to thank you Ms. Donavan for your participation in our 5th annual "Kick Up Your Heels" online auction. Your contribution will help support the Performing Arts community as we continue to develop programming for all ages to enjoy at the Lancaster Opera House.  I'm excited to announce that this year's event was our most successful to date. We raised $15,000 bringing our five year total to over $50,000. I can't thank you enough for your generosity and response to our programming needs and student workshops.
The Rainforest Foundation - Let me first express how excited I am at the potential of working with you and Ms. Donavan on the vital effort to save and preserve our world's rainforests. I'm also attaching some pictures of the destruction that we want to stop with all our efforts and also some photos of the first property we are protecting and preserving.Thank you for your help.
----


Look at what our customers are saying about their shopping experience:
BUY EVERYTHING FROM THIS SELLER!!! SIMPLY THE BEST! THANK YOU SO MUCH!!! AAA+++ Tom. F - Dallas, TX
Every one on earth should buy something from The Donavan Collection, Thank you all! Nice deal Roger H. - Manchester, Great Britain
THANK YOU DARCY YOU ARE SOMEONE THAT CARES ! THANK YOU FOR THE AUTOGRAPHS! A++++ Sami W. - Lakewood, OH
Perfect products. Great communication. Excellent! Sasha C. - Oakland, CA
Item just as described plus extra, high quality, quick shipping, A+ transaction ! Ben B. - Minneapolis, MN
What a sweetheart you are! Thanks much!!! Can't wait to buy again!!! Markus S. - Cologne, Germany