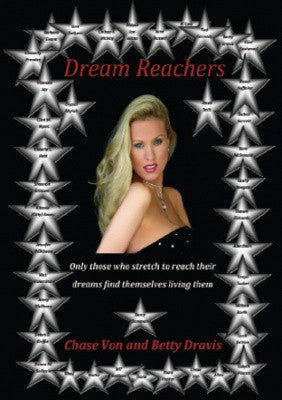 Darcy Donavan Autographed Dream Reachers Book
Regular price $79.99 Sale
Exclusive Dream Reachers Book. "Dream Reachers" is a magical mix of success stories and personal interviews from celebrities such as Darcy Donavan, Clint Eastwood, Tanya Tucker, Senator Ted Kennedy and Jane Russell just to name a few who have dared to stretch to reach for their dreams.

From living legends to legends-in-the-making, the subjects of this book let their imaginations soar. This book tells stories of how even disasters can turn into dreams, challenges into opportunities, with the right attitude of perseverance and determination. This book is Personally Autographed by Celebrity Darcy Donavan herself and can make a wonderful gift. This autographed exclusive book is a rare find. Here is your chance to get your copy, hand signed by Darcy Donavan herself.

You Will Get:

1 Darcy Donavan Autographed Dream Reachers Book
1 Certificate of Authenticity
1 Bonus 8 x 10 Autographed Photo
and..
1 Month Free Membership to Darcy's V.I.P Area, that includes V.I.P. Gallery, Downloads, Videos and More!

An Overall $150.00 Dollar Value, Yours for only $ 79.99!
A portion of all proceeds go to help local charities!