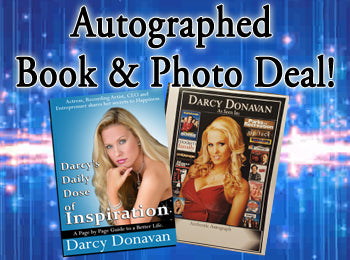 "Darcy's Daily Dose of Inspiration" Autographed Book & Photo Combo Deal!
Regular price $150.00 $99.99 Sale
   "Darcy's Daily Dose of Inspiration" Book is now available!
  There are only a limited number of these books available through this website and they are SELLING OUT FAST! 
Comes with Exclusive BONUS 8x10 Signed Photo just for you! WOW!
Darcy's Daily Dose of Inspiration: A Page By Page Guide to a Better Life
"YOUR DAILY DOSE OF INSPIRATION" I truly believe that everything in life happens for a reason. This book that you are holding is in your hands for a reason. You know that saying, "You can do anything you set your mind to", well it is true and I can attest to that. Sometimes things in life can be challenging. People can be difficult. Day to day activities can become routine, tedious or even mundane; however, you can change anything and everything that you want to change, if you put your mind to it. This book has had an impact on my life and the way I think, while writing it. I believe that it will have an impact on you and anyone you choose to share it with, especially if you do it every single day. Let the book and it's words inspire and encourage you to be the best "YOU", you can be. By implementing this each day, you are letting the universe bring the positive things to you, that you so deserve. In time, you will begin to see how you have transformed as a person, and everyone else in your life will see your growth as well. When you are done reading, I hope you will look back to see how far you have come. If you use the principles in this book, and concentrate for one whole year on the importance of each message, it will change your life and you will see a difference moving forward. So, I want you to sit back, relax and enjoy the messages contained within. Take them in, and absorb what each message is telling you! The beautiful thing is, you can start living your life the way that you want, right now! You are the author of your own book. Let the new chapter in your book of life, begin NOW!
With All My love, -Darcy
Editorial Reviews
October 15, 2018
What a great companion book to take you through every day! The daily motivations are brief and to the point, not to mention uplifting. There is also a small exercise recommended to do every day that correlates with the daily motivational message. This book is for all ages and would make a great gift for anyone in your life. It's also a positive exercise you could do with your family, or with your partner, to strengthen relationships and put the power of positive thinking out into the universe. Buy it, you won't regret it!
Darcy Donavan is a rare talent and an inspiration to people everywhere. We are truly excited to support her and her new book. If you are wanting to make a change in your life, get this book and read it each day. Thank you Darcy for all you do in this world.
I can't wait to get my copy of Darcy's Daily Dose of Inspiration. She has been inspiring me for years on Facebook. Thank you for all you do.
I am Darcy's biggest fan and have been waiting for this book. Thank you for making this world a better place Darcy. I love you
Really happy to be getting a copy of this book. Darcy is a true inspiration
Wow! So excited that this is available now!
Pre-ordered it and excited to read it. Known Darcy for over 6 years. Truly amazing in all she does. Update: Darcy's book is a very clever and well written one. Its chapters are the months and it has every day of each month within the chapters. She puts a quote and writes things that anyone can relat...
Darcy has written an inspirational book drawn from her on life's experiences! This brings the reader to a comfort of getting a morning's dose of a best friend's advice from Darcy!
Really looking forward to my copy of the book
I love Darcy's daily Facebook inspirational messages. I know this book is going to be awesome! Can't wait to get my copy!
I have been anticipating this book for the last year and am so happy that it is finally available.
This will be a great read!
I will use and cherish this book year after year! 100% love it! Darcy is so inspiring to me. Reading her messages, has changed my life.
Darcy Donavan has been my greatest inspiration. She as well as her daily messages on Facebook have made a positive impact on my life! Needless to say she's a godsend and I recommend her book anyone. It will not only inspire you but also change your life for the better. Thank you Darcy for the light ..
Super excited for this book! I can't wait to get mine when it's released. I love positivity! Can't wait to read!
Darcy. Is an amazing soul! Can't wait to check out this book!!!
About the Author
Darcy Donavan is a film and television actress, recording artist, writer, producer, entrepreneur and philanthropist. She has inspired millions throughout her life with her acting, singing and staying true to oneself in the face of adversity. Darcy has appeared in numerous blockbuster films and television shows such as "Anchorman," ABC's "Modern Family" and NBC's "Parks and Recreation," alongside many others. While the arts have always been a passion for Darcy, her role as a World Peace Ambassador, working with international charities and helping people in need are the causes closest to her heart. With her daily inspirational messages to her millions of followers, she spreads joy and positivity every day to her friends, family and fans worldwide.